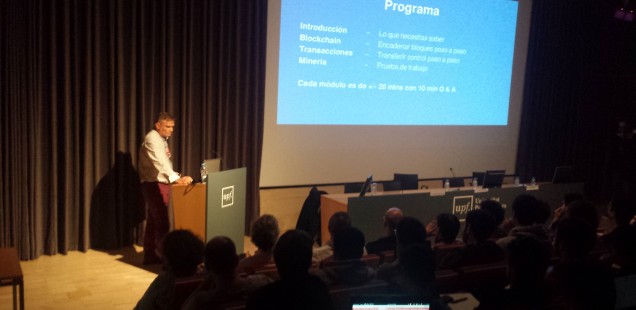 Open Bitcoin Day – Pompeu Fabra University
The Universitat Pompeu Fabra in collaboration with the Barcelona Bitcoin Community offers next October 1 a day dedicated to know the basics of how works the Bitcoin digital currency.
Summary of the event:
The working language of the conference will be Spanish, with part of the welcome (15 minutes) in English.
Framed in the inaugural lecture of the course at the Polytechnic School of the UPF, we will have the opportunity to hear an introductory talk to the digital currency by Carlos Steinblock (Member of the Barcelona Bitcoin Community and founder of the company BTC – Guardian) and practice with real Bitcoins. We will make available to the public in paper bags with a small amount of euros thanks to the company Bitcoin ATMs Exchange.
In this first act of collaboration between the University Pompeu Fabra and Barcelona Bitcoin Community, we will explain all the initiatives we have planned for the entire course.
Admission is free but requires prior registration.
Schedule:
10:00h – 10:45h
Welcoming
Presentation of the program of activities Bitcoin – UPF
Introducing the Barcelona Bitcoin Community and cashiers Bitcoin ATMs
Speakers: Miquel Oliver (UPF) / Miquel J. Pavón (ATMS B.E.) / Mike Mihaylov (Barcelona Bitcoin Community)
11:00h – 12:30h
Inaugural lecture "Revolution chain"
The chain block proposed new rules. comprehensive guide for beginners:
• Introduction
• Block Chaining step
Speaker: Carlos Steinblock (Barcelona Bitcoin Community)
12:30h – 14:00h
Hands-on Bitcoin – A first purchase Bitcoins
Initial explanation by Nèstor Pavón
Tutorial on this link.
14:00h – 15:00h
Second Talk of the Inaugural Lesson "Revolution chain"
• Transactions stepper
• Mining
Speaker: Carlos Steinblock (Barcelona Bitcoin Community)
15:00h
Networking
---
You can follow the event in streaming through this web
In social networks we use the hashtag #bitcoinUPF
Follow us on twitter: @BTCBarcelona
or facebook: https://www.facebook.com/barcelona.btc
In collaboration with: